Road Safety Guidlines & SOP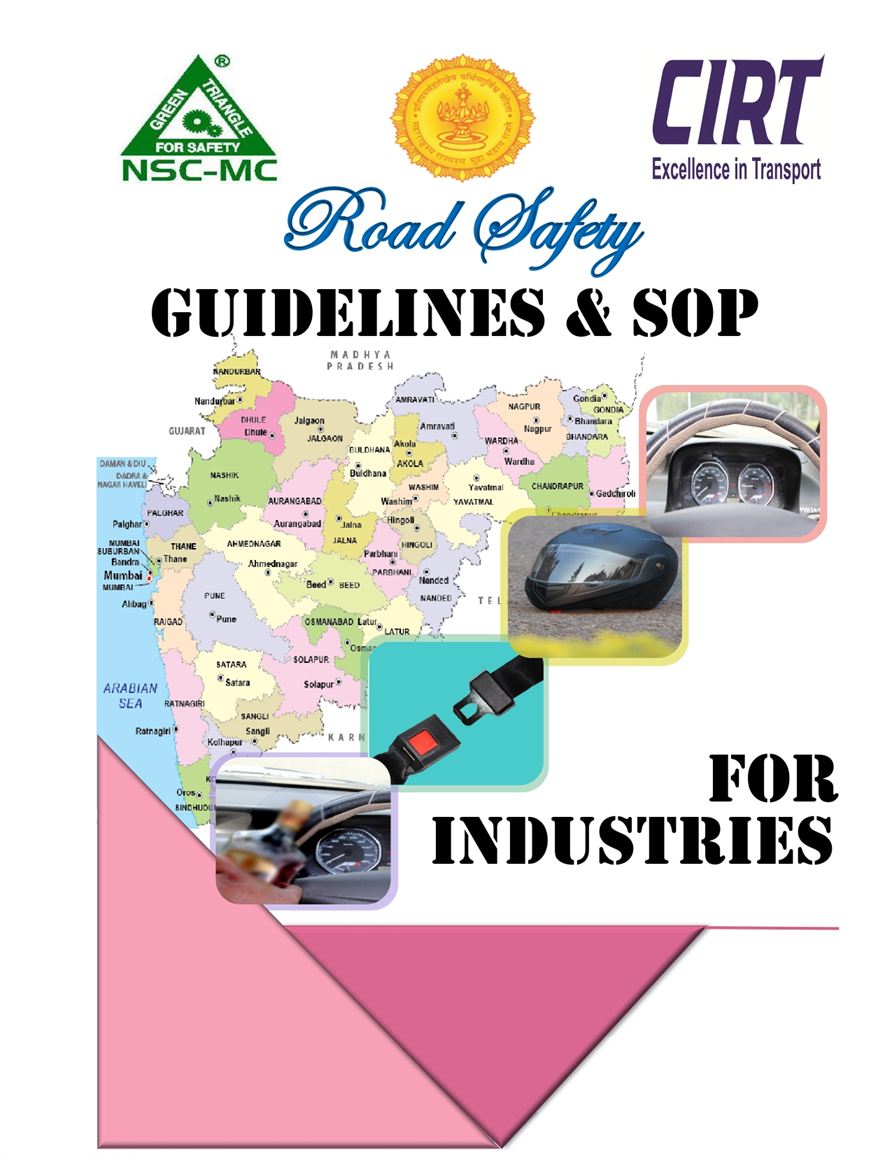 Road traffic injuries are the world's leading cause of death & injury, and Maharashtra is no exception. The state of Maharashtra, as per national road crash statistics, accounts for 7% of incidents and 9% of road fatalities. As a result, the social cost has increased, besides unmeasurable pain, suffering to the victims and their families.

In continuation, the road statistics have revealed (1) 93% of total traffic deaths comprise of road users in the age group of 18 - 60 (i.e., working employee/main earner of a household), (2) the top 03 'High Risk Hours' are 0900-1200hrs, 1500-1800hrs & 1800-2100hrs during which maximum crash & incidents occurs and these hours unfortunately coincide with general working /office hours. (3) Each 2nd crash in 2-wheelers, 4-wheeler (car/van/jeep) and heavy articulated vehicles is fatal.

It is well-known fact, that most of the road safety initiatives to be inculcated by road users/employees as best practices are related to changes in the habits & perceptions of individuals, and such changes can be initiated by industries as well. If existing crash trends continue unchecked, incidents will tend to increase not only escalating the cost towards injury/death but also, at place of work, it effect's the productivity, working environment (especially morale of other employees), direct & indirect cost of crashes to industry and even harm to industry's brand and reputation.

In order to curb road traffic crashes and associated fatalities and serious injuries, the United Nations' Member States reached consensus on 12 Voluntary Global Road Safety Performance Targets and Service Delivery Mechanisms. These 12 Targets are based on the 5 Pillars from the UN Decade of Action for Road Safety (2011-2020); Road Safety Management, Safer Roads & Mobility, Safer vehicle, Safer Road Users and Post-crash Response. The Second Decade of Action for Road Safety (2021-2030) aims to continue the focus on these key aspects. So, in the lights of the above facts, the National Safety Council-Maharashtra Chapter (NSC-MC) and Directorate of Industrial Safety & Health (DISH), Govt. of Maharashtra has decided to develop "Road Safety Guidelines & SOP for Industries". Recognising the need, relevance, long term sustainability and as a part of tactical approach the concept of Safe System is considered.

The Safe System Approach is based on 04 guiding principles 1) people make mistakes that can lead to road traffic crashes; 2) the human body has a known, limited physical ability to tolerate crash forces before harm occurs 3) individuals have a responsibility to act with care and within traffic laws, but a shared responsibility exists with those who design, build, manage and use roads and vehicles to prevent crashes resulting in serious injury or death and to provide post-crash care; and 4) in order to multiply their effects, all parts of the system must be strengthened in combination, and road users are still protected if one part fails.

Taking into account the applicability and effective administration, off various road safety risk factors & service delivery mechanisms, the factors & mechanisms under the 'Safer Vehicle' and 'Safer Road Users' is considered for implementation by Industries, to start with, as a pilot project for Industries in Mumbai Metropolitan Region. The Central Institute of Road Transport (CIRT) is the project's technical knowledge partner.

One of the primary objective is to help the industries in the Mumbai Metropolitan Region to develop and execute robust road safety policies that focus on road user behavioral risk factors. So, in order to create a sustainable and enduring change, the road safety policy is developed synchronizing the existing and global best practices leading to policy-based solutions for advocating:



Prevention of driving at excessive speed
Use of protective headgear (Helmet)
Use of seat belts
Prevention of impaired driving (driving under the influence of alcohol/drug)


This report outlines what & how to implement, roles & responsibilities, implementation procedure starting with conducting a baseline study (one-time) to quantify employees following the rules voluntarily and a pre-launch study (one-time) to assess the change in behaviour due to sensitization/awareness programme. Followed by Monitoring & Evaluation and assessment of output, outcome, and impact. Besides, information on reinforcing the above initiatives, is also included.

The project report is reviewed by the 'Members of Task Force on Road Safety' formed for the purpose and comprises of stake holders from Government agencies of the State such as Highway Police Dept, Mumbai Traffic Police Dept, Motor Vehicle Dept and Industrial Representatives from Kalyan Ambernath Manufacturer's Association (KAMA), Thane Manufacturer's Association (TMA), Thane-Belapur Industries Association (TBIA), Taloja Manufacturer's Association (TMA), Chembur Trombay MARG and also Road Safety Experts. After a series of meetings with all these stakeholders, the report is finalized for implementation by industries.

We presume that such policy, if administered effectively, will not only have a significant impact on incidents & fatalities but also proves the caring quality towards the employee consequently enhance the industry's reputation, both within the industry and amongst the customers.